Optimizing for Facebook

Producing a video is only the beginning. In order to be successful with video, you must understand how to properly optimize your distribution strategy for each platform. We recently published a guide covering digital distribution on different platforms, and this blog will provide an even closer look into digital distribution on Facebook specifically. Why should you care? Proper distribution is how your campaigns will be most effective in generating ROI for your business. The more you optimize your video content, the more people will see it and be engaged by it. This means more people are exposed to your brand and can potentially become customers (or, even better, repeat customers). If you use video the right way, you can turn customers into advocates that will love you so much that they'll sell for you. Here are 3 optimization tips and answers to 3 common questions that will make you a Facebook video guru.
Tip 1: Use Subtitles

No Sound
85% of people watch Facebook video without sound. If you can convey the information in words, people will watch longer because they're learning and engaged. This is especially important with advertising. If captions aren't included in your video in post-production, don't worry, Facebook has an easy feature to add captions for you. Facebook doesn't charge more, but ads with subtitles will keep people for longer. Each month, 80% of Facebook users access Facebook using a mobile device, so it's important to cater to this.
Tip 2: Square Up

Square Performs Better Than Landscape
This may surprise you, but square video takes up 78% more space on a mobile device screen than a landscape video. If it takes you more time to scroll past something, you're more likely to see it. Let me give you some numbers: the dimensions of an iPhone 6 are 2.3 inches wide and 4.09 inches tall, which makes for 9.4 square inches of screen (see images below). The dimensions of a square video are 1:1, so on an iPhone 6, square video takes up 5.29 square inches of space on the screen. For a landscape video, the dimensions are 16:9, meaning 2.96 square inches of screen space on an iPhone 6. Now we see that 5.29 is 78% larger than 2.96.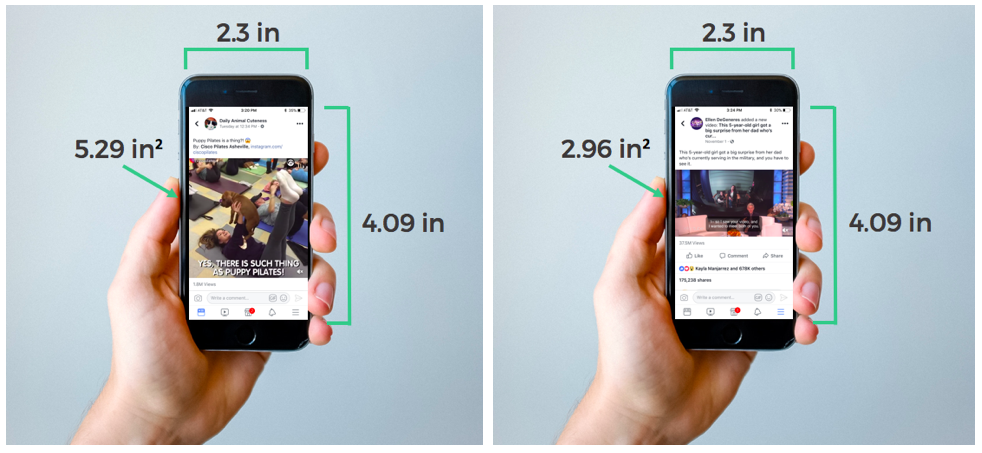 Tip 3: Upload Native Video

Native > Link
When you put a YouTube link in a Facebook post, you're already putting yourself at a disadvantage. Facebook doesn't want to send you to YouTube! Google owns YouTube
and Google competes with Facebook for ad dollars, so Facebook wants to keep you within Facebook. You should always upload the video file natively to Facebook instead because native video performs 10 times better than YouTube links.
Only a few years ago, people didn't know how to post videos on Fa
cebook, but times have (quickly) changed.
Facebook is still a personal social network, but it's also a huge network for advertising.
FAQ

How long should Facebook videos be?
The answer to this is short and sweet: 60-90 seconds. People want to keep moving along in their newsfeed but will keep watching if they're engaged.
When should posts be boosted?
If a post gets a lot of engagement early, more engagement than usual, Facebook algorithms understand that and treat it as a post people want to see. Facebook wants to show people what they think will be the most engaging. If you boost around this time of early success, it's adding paid momentum on top of organic momentum, which will accelerate the success of the post. If there is an effective *call to action* within this post, you may see a greater ROI and create lasting brand awareness.
If you're doing something interesting that your audience will be engaged with - yes! Facebook loves live video and the algorithms show this. All of your followers will receive notifications, and the more people watch and interact with your livestream, the more people will see it at the top of their newsfeeds.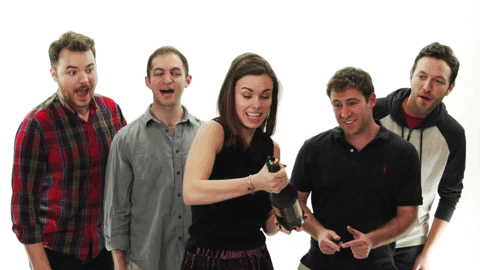 When you properly optimize video on Facebook, you'll feel like us when we finally got this confetti popper to work.
Consume Media
is an Atlanta, GA-based creative video marketing and video production company. Visit our
website
to learn more about us, or browse our full portfolio on our
Vimeo
page.