---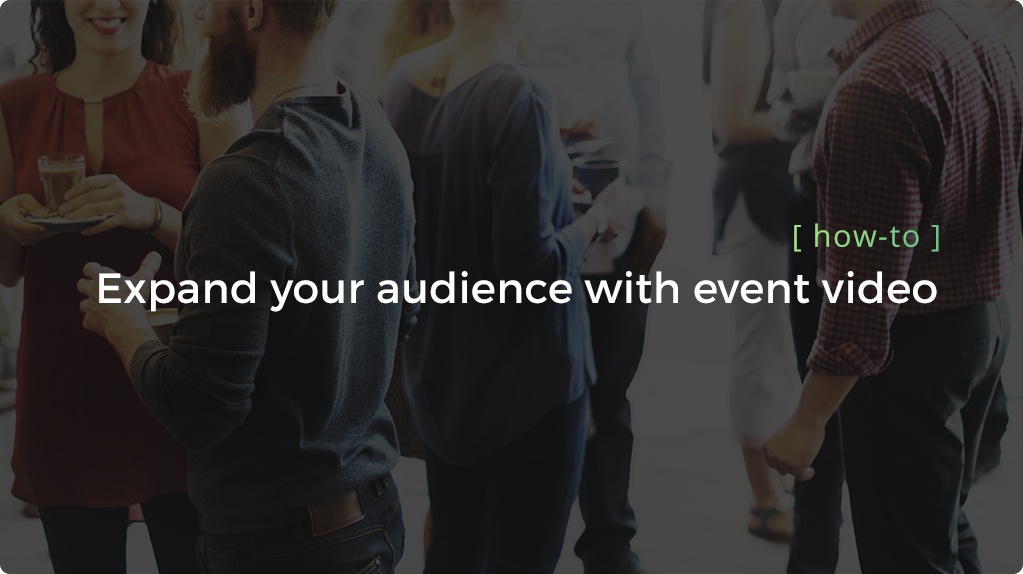 Imagine a world where no history is recorded. Nothing captured in writing and certainly nothing captured in video. How would we learn about an event that we weren't physically present to witness? How could we share this piece of history, and leverage it, if there's no proof that it happened? Now imagine that every time your business hosts an event - a conference, celebration, retreat, etc. - there is no history recorded. Without proof, your business is losing out on the opportunity to share those events with the millions of people who couldn't be there.
If there is no proof, there is nothing to share. This is well known, and the reason why many businesses are eager to have their event captured on film. By investing in event video, your brand can leverage the emotional power of video to showcase a specific moment in time in the most engaging and natural way possible. The added ability to spontaneously re-use the footage throughout your video marketing strategy enhances the value and impact of your event.
Event video is the most effective way to expand your audience for both past and future events. While sometimes it's obvious to your business what type of video to produce for or from your event, there will come a time when you could use a little more clarity. By understanding the roles for each type of video, you can better align your 'day-of' production with the short and long-term goals of your business.
---

1. Remember: Event Recap Video
A short video that captures key moments can be an extremely powerful tool to share with your audience. This form of content will get people digitally talking about your event long after the doors close, and will act as a catalyst to getting your message out to your current and potential customers.
An event recap video can be produced many different ways. In 2016, Mud Pie opened a brand new showroom in downtown Atlanta. Mud Pie needed a way to share the evening that communicated both their brand and what it was like to be there for the showroom opening.
The resulting recap video was a strategic combination of testimonials and event recap. By weaving customer testimonials together with footage captured during the party at the showroom, Mud Pie was able to share an event recap video that was equally exciting for those who were physically there and those who weren't. After extensive scripting and care throughout post-production, Mud Pie had exactly what they were looking for.
Incorporating video testimonials into your event recap video is not always necessary or possible. There are plenty of ways to approach your event - a montage is another perfect example of an effective video that's easy to produce. By capturing key moments and editing them together creatively - a short montage can tell the entire night's story in one minute.
---
Memories fade, but video last forever. Learn more by clicking the button below!
Learn how local Atlanta firms are finding success with video marketing and video production services.
---

2. Advertise: Promotional Montage Video
Many events take place annually and provide a great opportunity to begin incorporating event video into your video marketing strategy. If this is the case, and you are only thinking about this year's event, then you are one step behind. The best part about capturing event footage is that you can use it next year, too! Your 2016 footage can easily be repurposed to promote your events in 2017, 2018, and beyond.
Due to obvious reason, it's preeeeetty difficult to capture footage from an event that hasn't happened yet. This is where the ability to dive into your event archive will allow you to re-use existing footage, providing value from an investment in production that could've taken place years ago. This is the approach that the annual New Year's party, Buckhead Ball, has been using to sell tickets to their event since 2013. Each year, After Midnight Parties would prepare for their event by editing together sales promos with past footage, while also planning the capture of new footage. By using this annual strategy, AMP set themselves up to have useful marketing content for years.
About 90% of the footage used in this 2016 sales promo was filmed during Buckhead Ball 2015. By planning ahead, the event organizers were able to show patrons exactly what the party environment would be like, while maintaining the flexibility to promote new sponsors and performers down the road.
---

3. Re-Live: Multi-Camera Event Video
Some events cannot fully be expressed through a simple recap montage video. It wouldn't make sense to edit a powerful speech or a musical performance into a mixture of small samples. In such circumstances, it is more important to capture the message or performance in its entirety.
Sometimes watching a live performance video can be a dull experience - with uninspiring camera-work and poor audio or video quality. We certainly don't enjoy videos like that, but there's good news - this is not how it has to be. By creatively placing cameras in different locations, and capturing only the highest-quality audio, you can give your audience an even better viewing experience than those who were in the crowd. Sigma Delta Tau's team dance competition, Greek Grind, is a great example where a multi-camera video makes a lot of sense.
By capturing each dance team's entire performance with four different camera angles, SDT was able to share a dynamic viewing experience with even better perspectives than what you would see while sitting in the audience. SDT leveraged these 'multi-cam' videos by selling DVDs, turning their video strategy into another revenue stream.
---

Every event is different and requires unique planning to achieve your business goals. Ultimately you want to produce the event videos that align with those goals. Having video coverage at your event should not seem like a big decision, because often times it's a no-brainer. By further leveraging an already-existing event, your brand will have a visual time capsule that you can share forever.
---
Consume Media is an Atlanta, GA based creative video agency specializing in video production and video marketing services for business. Visit our website to learn more, and check out our full portfolio on our vimeo page.

---