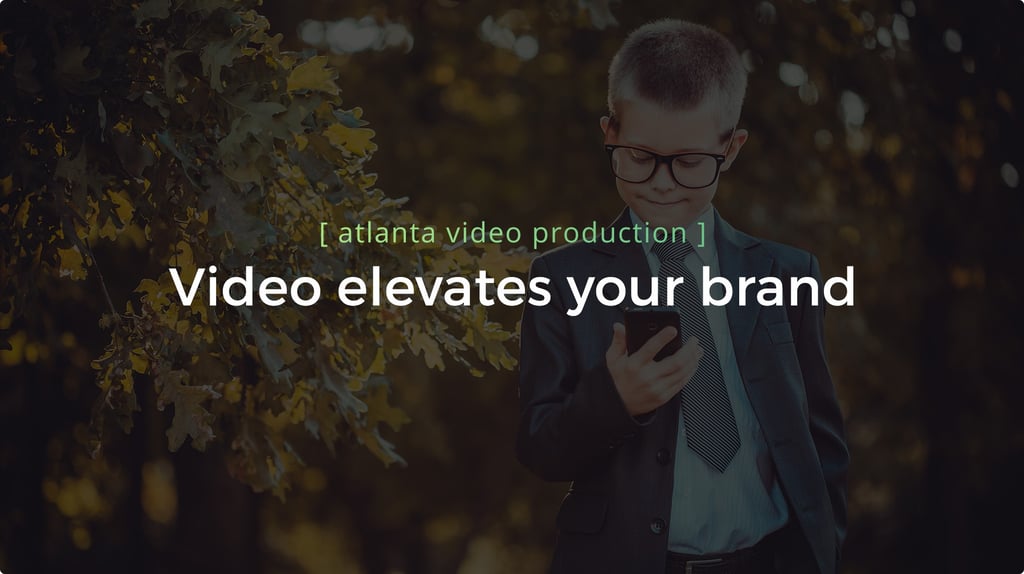 Video production goes beyond just cameras and actors - it represents the entire process of turning ideas into videos. The fact of the matter is that when it comes to video, the only limitation is your imagination.
Video allows you to tell your story, show off your product, improve a process, or share a moment. While there are other mediums that can achieve similar goals, such as pictures or text, video has proven time and again to be the most engaging. Video is the only form of communication that naturally evokes emotion by appealing to sight and sound - two human senses critical to engagement and learning.
Strategic video production - also known as video marketing - is changing the digital landscape. If your brand isn't actively producing video content, you are falling behind the competition. Fortunately, in just a matter of months, your business can completely transform your marketing strategy by investing in video production. Most marketers have come to a similar conclusion that video is the most engaging and shareable form of content, so now is the time to get started. Video marketing is the new digital advertising, but before your business can overhaul your strategy, there are a few video production concepts that are helpful to understand.

1. Shape Your Vision: Pre-Production
Imagine you just spent a lot of money on a video, and the final product is absolutely nothing like what you imagined. Unfortunately, a lot of businesses have been here before. Perhaps you partnered with the wrong production team, or maybe it was a communication breakdown between you and your producer. Valuable dollars are wasted when you skip the most underrated portion of video production - pre-production.
Pre-Production is an extensive process with the sole purpose of defining your video in detail before ever shooting or editing a thing. Without pre-production, no video team stands a chance. A lack of vision in the planning stage results in an abundance of mediocrity in the results stage.
The first step is to define the goals of the video for your business. Every video should have an inherent purpose; a video that doesn't contribute towards achieving some goal for your business really has no reason to exist, right? Using desired results as the North Star in crafting your videos provides a consistent purpose behind each idea. Once you've settled on a concept for your production, it's time to dig into the paperwork. Don't worry - it's fun paperwork. The project continues into the scriptwriting phase, which leads to Audio/Video scripting, and finally to storyboarding. Once the storyboard is finalized, casting and location scouting can begin. Only after all of these steps have been completed and approved upon by you, can the production begin.
Giving you the final approval at each stage of the pre-production process is crucial to avoiding late-round revisions or re-edits after the video has already been delivered. The video must exist on paper before it ever exists on screen. Remember, revisions during the pre-production stage are free, but revisions afterwards can push you out of scope and over-budget.

2. Make Your Brand Shine: Production and Post
Now that your goal-crushing video has been designed and you and your video team are on the same page, it's time to bring it to life. It's not easy to create a high quality video - you need expensive and highly-specialized tools, in addition to the knowledge necessary to take advantage of what they provide.
Most productions call for more than a camera and tripod - much more. Video production equipment ranges from cameras and lenses, to high-tech stabilizers and audio and lighting equipment. Be sure not to rush when you are on set. The production process is an expensive process that you want to get right the first time. Using all of the tools at your video team's disposal, in addition to keeping on track with the storyboards and schedules created during pre-production, ensures that your vision is given the attention to detail that it deserves.
Once your project reaches the post-production phase, your raw footage has been captured and it's time to cut together the final piece. This isn't as simple as stringing the clips together in a logical order and hitting export. In fact, that is only the first step. High-end post-production requires extra attention in the finishing stage. This round of professional polish includes color-correction, audio enhancement, animation, color-grading, and more.
Post-production is where your video brand is established, which provides essential cohesiveness to all of your video efforts. Once the post-production process is complete, the final result should be an effective, and beautiful, representation of the vision defined throughout the pre-production process.

3. Beyond Videos: Results
Once again, assuming that the reason that you're here is to achieve results, this is a pretty big aspect of the process to think about. Results are acheived when production is combined with a long-term, strategic marketing plan - there will be no overnight celebrities. Each video, as designed during pre-production, plays a different role in your marketing success.
There are a lot of ways to look at results, depending on the goals you defined for your project. You can measure by impressions, views, engagement, length of view, or most importantly - cost per conversion. This data acts as your own private focus group, telling you in real-time what is working, and what is not, so that the best campaign is always the next one. A dedicated, and creative, commitment to video marketing gives your brand the opportunity to elevate your competitive advantage and improve your bottom line.
---


While video marketing is the underlying strategy that will take your brand to the next level, the quality of your videos should never be compromised. An effective and engaging video is not created day-of-shoot, but is thoughtfully crafted during pre-production. Without extensive pre-production, you are rolling the dice.
Your videos will be the centerpiece of your website, social media, and email marketing campaigns- and are an extension of your brand. Do not leave your brand to amateurs. If people remember nothing else about your brand, they will remember your videos.
Consume Media is an Atlanta video production and video marketing company. Visit our website to learn more about us, or browse our full portfolio on our Vimeo page.