---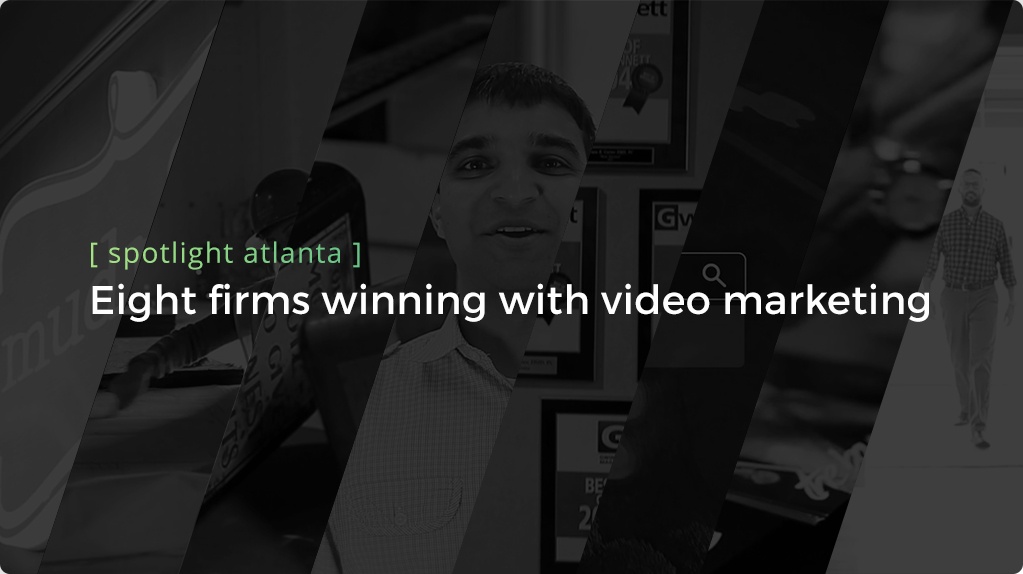 Video Marketing has changed the nature of the buying process. Today people are spending more than a third of their time on the internet watching video content (aka Consuming Media).
If you listen closely, this trend will let you in on a little secret and explain to you exactly where you should be spending the bulk of your advertising dollars. Your business can experience enhanced results by leveraging this video content trend as a way to engage with your audience at all stages of the buying process.
In today's competitive marketplace, you need to stand out. Knowing that having multiple videos naturally increases your website's SEO should be a good enough reason for you to consider investing. When you combine this with the fact that literally everyone is watching video content on the internet you can see how video marketing quickly elevates itself to the title of "game changer".
No matter what you are trying to accomplish in your industry, there is always an effective, creative, video solution waiting to be designed for your business.
Below are eight Atlanta firms who have taken advantage of recent video content trends and are noticeably ahead of the game because of it.
---

1. Bohemian Guitars - Product & Crowd funding Videos
Back in 2014, Bohemian Guitars' online shoppers had no way of knowing what a Bohemian guitar sounded like. The only audio-visual information they could obtain was by searching and watching amateur YouTube videos with poor production value. These kinds of user-generated videos can be great for publicity and reputation-building, but they are not always necessarily great for your sales process.
When you are dealing with a product such as a guitar where audio is intrinsically linked to what it is, it's crucial to be able to represent that with fantastic audio. Most of these user-generated videos provided by YouTube users did not specifically capture audio for their videos and as a result, your product's dignity was hurt just a little bit inside. The fact that there were only user videos representing the Bohemian Guitars brand was subconsciously perpetuating a sub-par representation of their product.
Not being able to represent the ideal specs and sounds of their guitars online was a serious pain point. Bohemian Guitars knew that they needed to increase the understanding of their product through digital channels - and determined professional product videos were exactly what they were looking for.
By implementing product videos as part of their marketing & sales strategy, Bohemian Guitars is now able to demonstrate to customers exactly what their guitars look and sound like, giving the Boho team better control of their product marketing. Now when Bohemian's customers ask them 'what do your guitars sound like?', the Bohemian team can quickly show them beautiful videos highlighting the sound differences and options.
After experiencing an increase in sales, Bohemian Guitars expanded their product offering by announcing the Bohemian Bass and Uke through crowd funding website Indiegogo. This time, Boho used video not only to demonstrate and raise funds for these new products, but also to tell their story and share their history - connecting on a deeper level with their audience and potential investors. Video Production was one of the many reasons that Atlanta-based Bohemian Guitars was able to exceed the campaign's crow funding goal by over 850%.
---

2. DecisionPoint Wellness - Brand Video
DecisionPoint Wellness, a new treatment center in Atlanta, was open less than 4 months before deciding to implement video marketing into their success strategy. DecisionPoint made it clear that they were different from other treatment centers, but they needed a way to show it.
"This is not your

typical rehab"
CEO Mike Reis didn't want a standard rehab commercial filled with "actors and fake testimonials", he wanted a message that included the very real people he helps on a daily basis and a message that showed why his program is different from the others. They didn't have a gigantic budget to spend on a large ad agency, but they knew they needed professional help to direct the concept, scripting, production, and distribution of this video.
The message was simple: this is not your typical rehab. DecisionPoint knew video was the best way to convey this messages to the local families that really need the services they offer.
---

If you've enjoyed what you've seen so far, and are interested in learning more about how video marketing can help your business- click the button below and we would love to talk with you.
---

3. Frenik Labs- Video Marketing Services
As a young entrepreneur in Atlanta, Frenik Labs CEO Jordan Sandler knew that if he wanted to compete as a digital marketing firm in Atlanta, video production would have to play a part in his strategy. Sandler knew that companies that do not invest in video marketing would be left behind, and he wanted to offer only the very best marketing solutions to his clients.
Due to the highly specialized and expensive nature of the video production industry, it didn't make sense for Frenik to invest in their own video equipment or employees with video expertise. The solution to offering video to Frenik's clients was a strategic partnership.
Through a strategic partnership, this full-service agency is able to offer video marketing in their portfolio of services, while working with Consume to bring the vision to life. Consume's professional team and state-of-the-art equipment arsenal allows Frenik the ability to provide high quality video services to their clients without making the significant investment in equipment. Frenik Labs has been able to provide creative video solutions for DecisionPoint Wellness, Martin Concrete, Transforming Smiles, Gwinnett Chamber of Commerce, Campus Sports, and more.
---

4. Martin Concrete - Recruitment Video
As Atlanta's premiere concrete construction company, Martin Concrete consistently has teams working on big budget construction projects all over Atlanta. From sound stages to baseball stadiums, these guys do it all. The main factor constricting Martin's growth was keeping up with growth of sales.
The executives at Martin wondered how they could effortlessly attract more, qualified people. The plan was to create a recruitment video that would be featured on their new website and advertised on social media. With sponsored advertisements on various social media platforms, Martin can target the right people for the right jobs. By putting the company culture and exciting projects on display, Martin Concrete was able to attract more qualified people and show them why Martin is a great place to work.
---
If you like what you've seen, click the button below to learn more about how Consume Media can help you with your video marketing
---

5. Mud Pie - Training, Product, & Event Recap Videos
One of Atlanta's largest fashion design companies sells so many great products to so many different stores, that sometimes the retailers just don't know the best way to sell them. Mud Pie Public Relations Director Ellen Fruchtman saw this as a problem, and knew that training videos for their retailers and sales reps would make a huge difference in their retailer's understanding of the products.
Mud Pie now creates seasonal training videos on specific topics for their retailers. These videos have received overwhelmingly positive feedback for their ability to inform and educate their retailers on trends, and give tips and techniques to help boost in-store sales.
Along with educational videos, Mud Pie also releases seasonal product line overview videos that show off the entire collection, in addition to event recap videos.
---

6. Terminus - Personalized Videos, Educational Videos, Post Production Services
The fastest growing MarTech (Marketing Technology) company in Atlanta certainly understands the value of video marketing. Terminus uses video as a part of their marketing strategy every step of the way. With Vidyard, Terminus is able to personalize videos for each of their customers. They also habitually document every one of their educational conferences and events, and make sure that the final content is branded and beautiful for the end-user to enjoy. By consistently leveraging video marketing on various platforms, Terminus is able to stay ahead of the competition with a branded and continuous video content marketing strategy.
---

7. Transforming Smiles - Brand, Services, and Customer Testimonials
As part of their website re-design, Transforming Smiles wanted a piece of branded video content that would capture the attention of new visitors. SEO was a huge factor in Dr. Carter's new website, and he wanted to invest in 'evergreen' video content that would give him an extended useful life and attract people to his website through search engine traffic.
After some video marketing consultation, Dr. Carter decided to move forward with creating video content for his new website that highlighted his brand, his customers, and his services. Dr. Carter understood that the brand video would play a crucial role in introducing his practice to new website visitors.
After establishing his practice's brand with the practice overview video, Dr. Carter wanted to reinforce the importance of the relationships he has with his patients. By capturing his patient's success stories in a video testimonial, Dr. Carter was able to share the positive experiences of others who have chosen to trust him with their dental needs.
The services video series allowed Dr. Carter's practice to educate his visitors on the different, more specific procedures that Transforming Smiles provides. Dr. Carter's particular office offers preventative, cosmetic, general dentistry, implants, and more. These services videos played a dual role of improving SEO and increasing traffic, in addition to keeping the viewer active and engaged once they arrived to the website. This on-site video marketing strategy has proven successful in keeping visitors on their website longer, leading to an increase in educated patients and an increase in conversions.
---

8. W Atlanta Midtown- Event Recap
W Atlanta Midtown hosts a monthly concert series where they attract top musical talent to perform a public show in their penthouse. While the shows are a continuous success, the WATLM had no visual proof to show for it. The first solution the WATLM tried was hiring local photographers and videographers, but these other local folks just weren't delivering the results they were looking for that brought the venue and night to life. The W Atlanta Midtown knew that these videos should attract talent for their shows, and also potentially attract sales to the event space itself. After a couple of lackluster experiences, WATLM knew it was time to invest in experienced professionals. W Atlanta Midtown now has multiple high quality event recap videos to pitch to talent and show to event planners.
---


Video marketing is the most effective way for your company to increase sales, increase visibility, and activate your audience. You just have to know who you're talking to and what you're saying that will make them think you're the greatest. It's classic marketing - but with a modern day techie twist. While all marketers know that video content is the way to your customers' heart, not all businesses are taking part in the movement.
With an effective video marketing strategy that consistently and creatively engages potential clients at all stages of the buyer life cycle, your company can achieve results in any area of your business that you are looking to enhance. If you choose to jump in to the video revolution today, you put your business at a distinct advantage and set your marketing efforts up for the future.
---

If you like what you've seen, click the button below to learn more about how Consume Media can help you with your video marketing
Consume Media is an Atlanta, GA-based creative video marketing and video production company. Visit our website to learn more about us, or browse our full portfolio on our Vimeo page.
---