Hurry up and wait...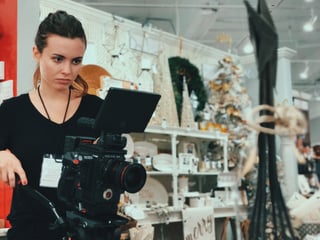 This was the theme of my first on-site behind the scenes video shoot experience with Leo and Michael, the talented Consume Media duo. We shot a series of videos for Mud Pie, a long time customer, at America's Mart in downtown Atlanta. Mud Pie is a women's apparel, kid clothing, gift, and home decor company based out of Atlanta, Georgia. The goal of this video series is to answer Mud Pie vendors' frequently asked questions regarding store set up, display, and decoration in order to sell more product. The Mud Pie showroom is fully prepped for the July Show, when retailers will come to place their wholesale purchases. Here are 5 of the most important things I learned on set.
Interested?
1. We don't do this just for kicks
On this one day, we shot 10 videos, all with different purposes, that Mud Pie will distribute over the coming seasons to their vendors. One of my favorite videos provides inexpensive ideas to dress up a retail store. Mud Pie created a wall full of small tin foil sheets in their showroom that makes the perfect, shiny background for white and silver Christmas decor. The objective of another video in the series is to show how and when to smoothly transition from season to season and holiday to holiday. Pumpkins are great for the fall because they are general enough for the whole season, but can easily be Halloween or Thanksgiving ready with a few decor changes. The overarching goal for the series of videos is to help retailers efficiently set up and display Mud Pie products so more sales are made and everyone is happy.
2. Lighting is e v e r y t h i n g
There was absolutely no natural lighting in the showroom, so placement of artificial light was critical. Usually on set, the guys use powered lights that need to be plugged into an outlet, but since this shoot involved traveling to several different areas around the showroom, battery powered lights were optimal. Though this offers more mobility, the power is not unlimited, so extra batteries on hand are key.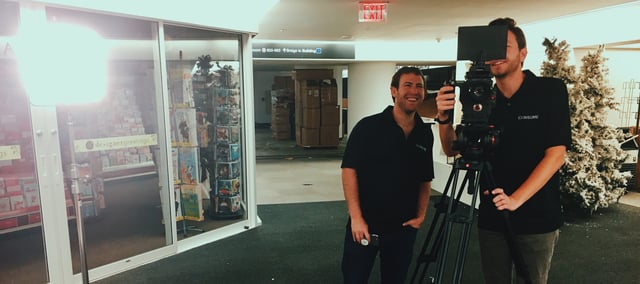 Leo and Michael in their natural habitat.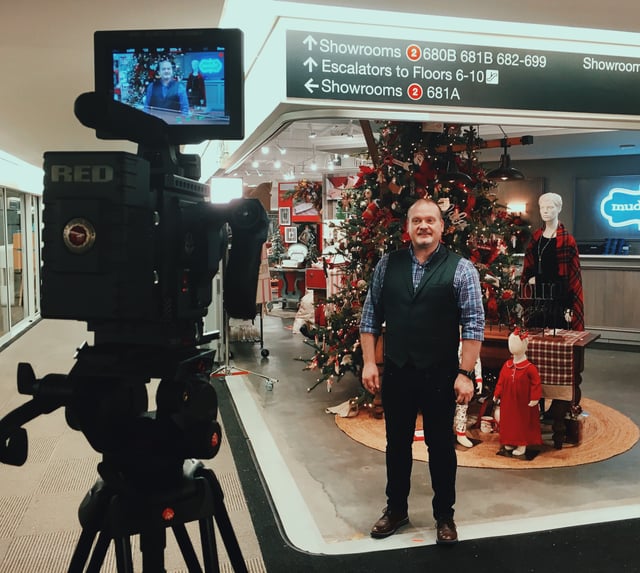 When you finally get the right lighting.
3. Time and Money
Everything is going to take longer than initially planned for. Sometimes the vision changes or people are running late. That's just life, but make sure you account for the unplanned. Even when the set is just right, everyone remembers their lines, and the vision is clear, little things will need adjustment. Is light reflecting off that ornament into the camera? Is that child mannequin's head weirdly floating at the bottom of the shot? Everything takes time, and time is money. If you want a perfect end result, patience and an eye for detail are necessary.
What else costs money? The equipment! Anytime I held a lens, camera, or microphone, I used both hands and walked carefully. Michael and Leo came to set with more gear than I've ever seen, it was impressive. This video for Mud Pie was shot using an 8K camera, which produces beautiful and crisp footage, and costs more than my car twice over.
4. Mud Pie is insanely good at decorating
There's a reason this company is successful. Not only is their product contemporary and chic, but they have incredible designers who not only beautifully display their product, but display a whole life style and vibe (forgive my use of that word).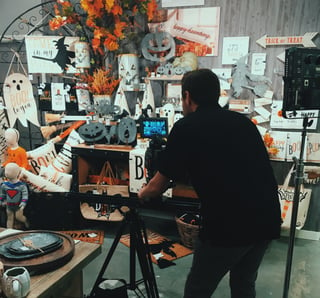 5. Variety of Shots
While the intro to each video is Chad, the visual director for Mud Pie, a large part of each video will feature b-roll shots with voice overs. B-roll is footage of objects, backgrounds, etc., in order to give visual context to the purpose of each video. It also adds depth and variety. For this video series, the b-roll footage features fun wall paper, a Christmas tree, child mannequins in Halloween costumes, dancing pumpkin decor, etc. (see above photos). B-roll plays a critical part in this type of video as it brings words and ideas to life.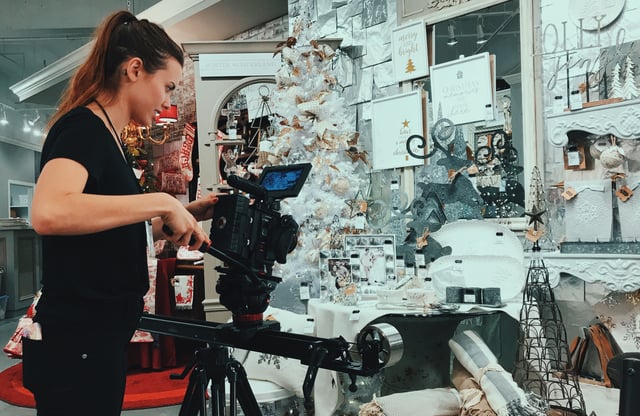 Adding foreground to a shot also makes it more intriguing to the eye. Foreground is the object or plane that appears closest to the viewer. The foreground or the background can be the focus of the shot, but it adds depth to include both. Midground (which is exactly what you think it is) can also be added to the shot for even greater dimension. In the picture below, I am using a post from a fake front porch as foreground before sliding the camera to the real focus, the background.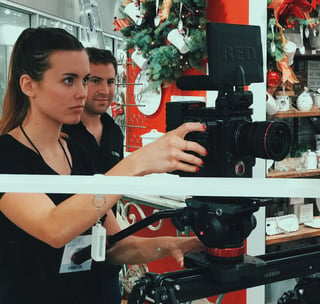 Look at the subtle pride on Leo's face. Don't let the picture fool you, an hour before using this fancy camera I trotted 11 Starbucks coffees up to everyone working in the showroom #InternLife.
My first experience at a video shoot was educational and fun, as every field trip should be. Leo and Michael are easy going and brilliant at their craft. The whole Mud Pie team was a pleasure to work with. Seeing all the equipment, creativity, and effort that goes into every single Consume Media video inspired my interest in this industry all over again.
Consume Media is an Atlanta video production and video marketing company. Visit our website to learn more about us, or browse our full portfolio on our Vimeo page.