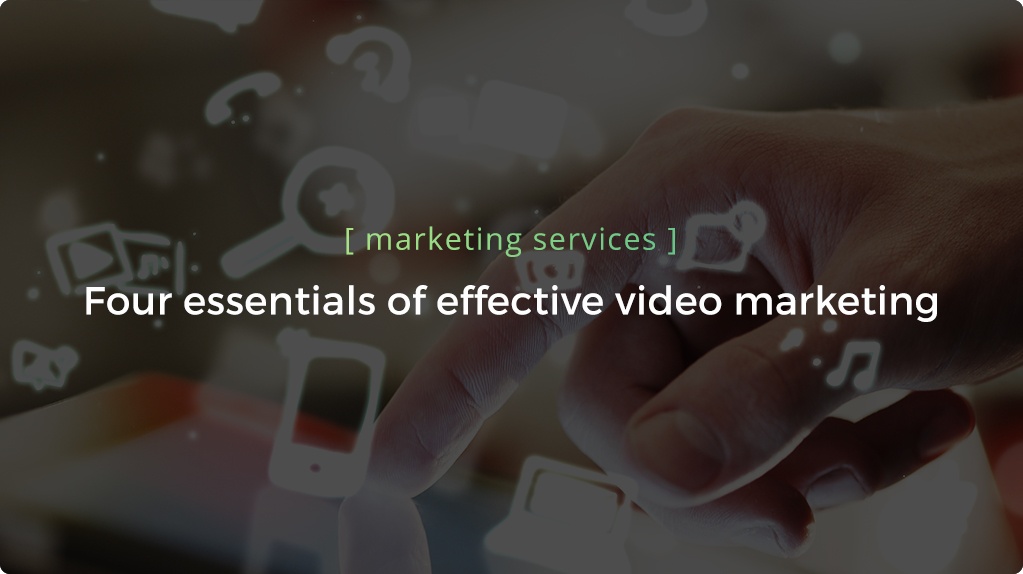 ---
Marketing has evolved. It all started with word of mouth marketing (there will always be word of mouth). Then there was print, and radio, and then, shortly after, came television.
With each advancement in communication technology came a new premiere way to advertise your business. Online advertising has given us the power to target customers and measure results in ways that no other technology has before. Ignoring the digital advertising revolution would be a major dis-service for your business. With the emergence of a new industry in and of itself - Marketing Technology - we are seeing digital marketing become more seamless and personal than ever before.
Your digital marketing strategy is a combination of audience, message, and medium. These should act as the North Star for your marketing efforts. Who are we targeting? Where do they spend their time? And when we find them - what are we going to say? Framing your thought process in this manner will enable your business to better understand your digital marketing strategy, and leveraging technology to measure the results of your actions will empower your campaigns to improve over time.
From this ever-expanding marketing technology and digital advertising landscape comes an endless array of options for your business to consider for your digital strategy. There is, however, one marketing medium that stands heads and shoulders above the rest - Video Marketing. In plain terms - video just works better. Video is the most consumable, shareable, and engaging form of content that you can push to your audience. Video content is 40x more likely to be shared on social media than plain text, and doubles the amount of time that people are willing to listen to your message, increasing engagement with your most sought-after audience.
There is a lot to know about digital advertising, and even more to learn about how to implement a thoughtful video marketing strategy with tailored messaging that engages the intended audiences. Before we get into the nitty gritty of video marketing, let's get back to basics. Below is a crash course on exactly what it takes to design and execute an effective strategy that delivers measurable results.
---
1. Market - Who are we talking to?
It's crucial to start with your goal in mind. One of the first efforts in the goal setting process should be defining your audience. In the age before digital advertising, television was the first choice for most businesses looking to distribute a video message. Television gave businesses the ability to target their videos more specifically than ever before (by channel and/or during certain programming), and firmly established video as the most valuable way to reach an audience. Television advertising paved the way for what is now a continuously evolving digital advertising space. Now, everybody has the ability to create engaging content and get it in front of the right people. Modern digital advertising platforms allow any firm to target by age, location, interests, whether or not they have been to your website, whether or not they have recently purchased from your website, and more. This target market information is invaluable to the planning phase of your video marketing campaign and critical to its overall success. You absolutely need to know who you're talking to before you can decide on the best thing to say.
For example, a local fashion company that targets 20-35 year old women in Atlanta, GA can target that very specific target market. A company that sells apparel to NFL fans can target people who have a history of interacting with anything NFL related on social media, or people who have recently bought or searched for NFL apparel. A company that sells garden supplies can put their content in front of users interested in nature, plants, landscaping, gardening, etc.
Digital advertising enables us to target our market so easily that the old advertising methods just look primitive in comparison. It is the secret sauce in all of this; the 'superpower'. Now that we know who we're talking to, let's figure out what to say...
---

2. Message - What are we saying?
"We're this. Buy us."
No one likes spam. Spam advertising was rampant when the sellers were in control of the market. Sellers were able to take, take, take, and rarely ever worried about what type of relationship they were establishing with their audience and customers. It was all "we're this, buy us" and not enough showmanship. The digital age has completely flipped this, putting the consumer in control. Now that buyers have so much information at their fingertips (literally), your tactics must shift towards building thoughtful relationships with your audience. The best way to do this is to give them something that they care about.
Each audience needs to be treated differently. While demographics and interests typically first come to mind, you also need to be thinking about where the audience is in the buying cycle. Someone who has never heard of your brand should be treated differently than somebody who bought from you three times last year. All of these aspects of your target market inform your messaging and video scripts.
Becoming a trustworthy source of information has proven to be key in establishing consumer relationships in today's marketing space. This strategy is called 'Content Marketing' and involves providing relevant, engaging, and reliable content for your audience.
This relevant, engaging, and reliable content can come in many forms depending on the audience that's being targeted. Some different types of content include:
How-To

Teach your audience a new way to get more out of your product or service. By providing educational content, your business creates a knowledgeable audience and establishes itself as a thought leader in your industry. Essentially, the more your buyers can learn from you, the more they are willing to trust that any product or service that you provide is reliable or helpful.

Video Testimonial

Video testimonials are the best way to reinforce your credibility. These unbiased success stories are especially helpful when targeting buyers who are already aware of your product or service but may need a little more convincing.

Product/Service Explainer

Product or service explainer content provides a great opportunity to introduce the specific abilities of your firm to buyers that may or may not have heard of you yet. Explainer content is usually short, which makes it highly shareable and consumable. Explainer content revolves around the idea of what we call the "knowledge bomb." Similar to How-To content, these knowledge bombs reinforce your thought leadership for buyers in different stages of the purchase life cycle.

Short, Medium, and Long advertisements

It may not be Super Bowl half-time, but creating a series of advertisements for your product or service injects some fun and creativity into your marketing efforts. These are the ads that you dream up from scratch that take your audience and buying stage into account. These advertisements establish the personality of your brand and are great for use on video advertising platforms. More on that later...

Current Events

A well-informed audience is an attentive audience. Keep your audience updated with the exciting things coming out of your company. Share an update on the project you just completed, or give a hint about a new product that's in development. These videos keep your brand 'alive' and in front of your audience and let your followers learn a little more about the inner workings of your company.

Behind The Scenes

Behind the scenes video give your audience a peak behind the curtain. They get to learn how a product is designed or manufactured, or they get to see what went into making the service that they rely on and love. Behind the scenes content becomes extremely powerful when buyers begin looking into purchasing your product or service and helps convert past customers into advocates.
The most common misconception is the idea that once all of these videos exist - the job is done. If you create videos and don't do anything with them - what was the point? Now that we have an arsenal of targeted content, we need to choose the best places to reach our audience, and how much we're going to invest in advertising on each.
---

3. Medium - When and where?
Your audience is all around you, but if they never have an interaction with your brand, they will never have the opportunity to buy. Innovations in the digital sphere now let us reach potential customers all over the globe. Facebook, Google Adwords for YouTube, Linkedin, and more have changed how brands interact with consumers. These innovations in digital advertising will continue to provide innovative platforms where you can reach the right audience.
There are dozens of different platforms to choose from, but your specific market segment may not use all of them. The key is figuring out which of these places will provide the most valuable interaction for your consumer. There are always clues as to where you should be investing your advertising dollars. On the most basic level, B2B firms usually have better luck finding clients on Linkedin, while B2C firms tend to have more success advertising on Facebook. If your business has never delved deep into digital advertising before, it will start as a guessing game to find out where your customers live online. Fortunately for us, real-time data and analytics software give us the ability to see where our most successful advertising campaigns are taking place so that we can focus more on what's working and less on what's not.
---

4. Measure - How do we figure out what works?
Before digital advertising, we could not accurately measure our marketing efforts. Remember the old adage "50% of our marketing works, the problem is we don't know which 50%". That might be true, but it simply doesn't apply to digital advertising. Now web analytics provide actionable data that shows what is working and what isn't. We can see who is clicking, what they're clicking on, which group of people are clicking more than others, etc. This type of data allows us to target much more intelligently and improve our campaigns. After a few months of testing, you will have a large enough sample size to know which platform or type of content to adjust your advertising budget and strategy towards going forward.
Video-specific analytics can also show how long people are watching your videos. This can help you not just with your targeting, but with your content generation itself. If people stop viewing after 5 seconds, you know that piece of content was not connecting with your audience. You may need to alter the introduction, or the topic altogether. Data will give you the insights necessary to ensure that your business is producing more of the videos that people are actually engaging with.
Digital advertising and analytics has allowed us to change the way we think about marketing. Marketing is not as much of a mystery as it used to be. Now your efforts can be measured and adjusted, optimizing your marketing strategy for maximum success.
---

An effective video marketing plan requires more thought than just making videos and posting them to Facebook. Your campaigns must be consistent, targeted, and intelligent in order to achieve real results. The digital representation of your company should place an importance on continually providing informative and educational content to your audience in a branded and visually appealing manner. Content will always be king, but your distribution strategy is the true secret to taking your marketing and advertising game to the next level.
The Digital Advertising space is huge, and can seem overwhelming, but there is no denying that combining technology with a marketing mindset can take some of the guessing out of your efforts and help you produce consistent results. The only way to achieve these results is to have a detailed plan in place that considers who you're talking to, what're you're saying, and where and when you're saying it.
---
Consume Media is a team of video marketing experts who have the ability to relieve stress in your video marketing world. We provide both individual video solutions as well as long-term customized marketing services. If you want to learn more about how Consume Media can provide video solutions for you, click below. We'd love to learn more about your business.
Consume Media is an Atlanta video production and video marketing company. Visit our website to learn more about us, or browse our full portfolio on our Vimeo page.

---