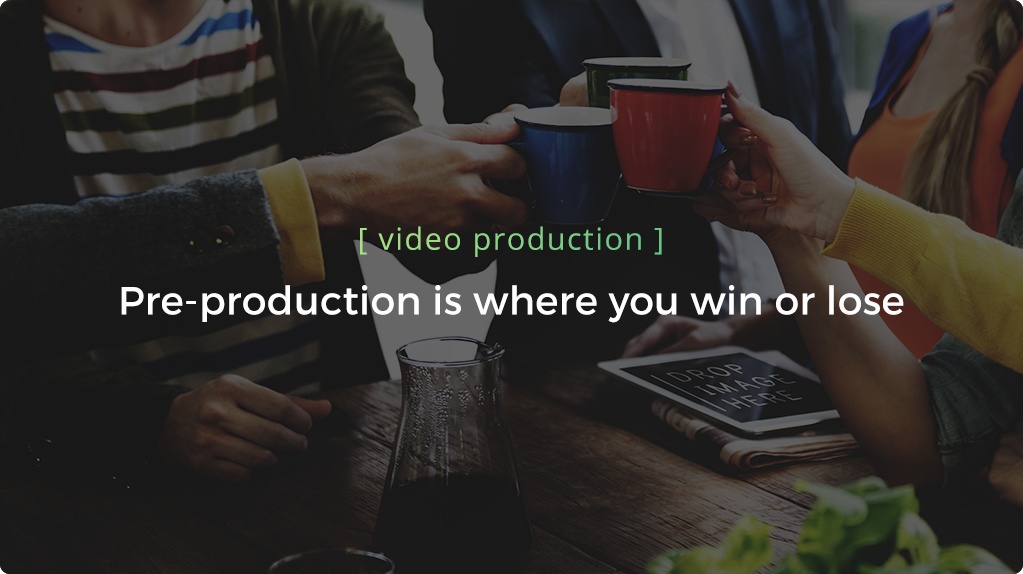 Once you have chosen to embark on your video marketing adventure, you are off and headed in the right direction. But remember that patience is a virtue. You are not ready to start making videos quite yet. Pre-Production is the first step, and is a very extensive process. Pre-production is essentially combining all of the steps that occur in between the signing of a project contract and the first day of production. Sure you could try to jump right into production and figure out the rest during post-production, but this will result in a Frankenstein's monster and videos that are incapable of achieving your goals.
Your videos are a reflection of your brand. Video production takes time and money, so why waste either of those assets due to your own restlessness. Throughout this article, we will take you through the 7-stage process of pre-production. You will gain an understanding of each step's importance, along with how that step fits into the overall process.

1. Discovery: Learning About You
Would you trust your brand with somebody who didn't know your business inside and out. Of course not! This is why learning is always the first step. The producer will not already know enough about you and your business to justifying commencing the script writing process. Understanding your business's culture and current marketing strategies is essential to everything that takes place throughout the video marketing process.
This is why a 90-minute discovery session is always the first step of pre-production. The producer will dive deep into your company, services, audience and culture. We'll ask both the easy and the tough questions. In order to effectively market your business, we need to fully understand it. Our team will integrate seamlessly into your marketing department, enabling us to get a head start on understanding what is resonating with your audience. Some questions we may ask are:
'How are you currently investing in Digital Marketing?'
'What are your most popular products/services?'
'What do you see as the future of your company'
'What is your company's spirit animal?
After learning the ins-and-outs of your business, we are ready to move to the next stage of the pre-production process. But we're still not even close to ready to make videos.
---
Schedule your free video strategy consultation to learn more about our video marketing process.
---

2. Creative Brief: Creating Your Concept
So now your video team knows everything there is to know about your business. We now understand the personality and style of your brand. We know your history with recent marketing strategies and know which strategies have been working, and where there is still work to be done. The next step is taking this knowledge and creating a blueprint for success. This blueprint is called the Creative Brief.
The creative brief is where your video marketing plan begins to take shape. We outline which video types you should be focusing on, how long they should be, concepts, styles and goals, in addition to suggested advertising methodologies. Every creative brief is different, as every company is different. A fashion firm needs different videos than a B2B Marketing firm. A local company needs a different strategy than a global firm. We use the information learned during the discovery session to conceive a creative strategy tailored directly to your business's needs and goals.
We rarely expect the first version Creative Brief to be the same as the final version. There is always room for revisions, and we will always listen to your feedback and work together to create the perfect recipe. Once the Creative Brief is approved, it's time to begin the script writing process.
---

3. Scriptwriting: Telling Your Story, Verbally
After learning about you and creating your initial video marketing concepts, it is now time to begin the storytelling process. The backbone of any great video is a well-written script. The script of your video will vary greatly depending on the type of video we are producing. For example, a customer testimonial video is not about writing a script, it's about coming up with the right questions to ask. A brand video can be as creative or as simple as you'd like. A video blog should be short and to the point. All of these scripts need to be written with the appropriate voice, style, and personality that reflect your brand and work toward achieving the goals we set during the discovery session.
We will delve back deeper into our notes from the discovery session to pinpoint specific selling points that separate your brand from the competition. Together we will establish a voice and tone for your storytelling and use this inspiration to tell your unique story.
Our scriptwriters have told the stories of companies of all sizes and varying industries. Whether you operate a real-estate firm, a wellness center, or a fashion firm- our team has the experience to encompass all different spheres of business. Your discovery session is the key to your scripts. The more information we learn up front, the more knowledge we will have to tell your unique story.
---

4. Storyboarding: Telling Your Story, Visually
Now that we have created the message, it's time to create the visuals. While the script is the backbone of your story, the storyboard is the backbone of your video. There are two documents that must be created during this stage: the shot list and audio-visual time line.
A shot list is exactly what it sounds like - a list of the shots that we want to capture on the day of production. Using both the concept and script as the guide, we brainstorm the shots that will bring the story to life. Here we decide not only what we want to capture, but also how we want to shoot these shots. Is this a close-up shot, or is it wide? Is the camera static, or is it moving? Are we using a crane or a drone?
The audio-visual (A/V) time line is another document that does not require a PhD to fully understand. This document is a combination of the script and the shot list, showing how the words and visuals interact throughout the duration of the video. This document will typically have two columns, where the left side is video (shots), and the right side is audio (script). By separating these two aspects and laying them side-by-side, the A/V time line creates an easy to understand summary of how the video will ultimately look.
---

5. Production Schedules: Organizing Your Shoot
We are making moves! Our video now has a script, shot list, and most importantly the A/V time line. With the completion of the A/V time line, we have jump-started the video production process and put us in position to succeed. We now know exactly what we need to do on set in order to create the video(s) of your dreams. The next step is to organize the shoot and create the production schedule.
A production schedule has two main purposes. The first purpose is to set client expectations. There is nothing worse than arriving on set and being clueless as to how the day will unfold. By setting a production schedule, both the client and producer are on the same page. If there is some part of the schedule that does not make sense, the client has the opportunity to review and send out any needed changes before the shoot date. The second purpose is obvious- to keep the production on schedule. While there are often minor changes that occur on set, having this foundation keeps everything organized and everyone on track.
---

6. Casting: Picking Your Talent
Not every video requires professional talent, but for some videos this step can make all of the difference. For example, you would never consider casting talent for your 'customer testimonials' video, you would want these reviews to be 100% authentic. However, for a brand video, casting can be key.
When casting it is important to choose wisely. You want to make sure that your talent appropriately represents your company and that they are relatable for your ideal customer profile. If your audience is relatively young, we cast young talent. If your audience is wealthy, we make sure they wear the appropriate clothes to play the part. Using professional talent can increase the production value of your video at a cost that should never be a budget-breaker.
---

7. Location Scouting: Choosing Your Scenery
Location Scouting is the last step to ensure that all of the pre-production pieces are completed. Unless this video is shot at our studio, every shoot will require a location scout. Without a location scout, something is bound to go wrong. Since power and lighting are extremely important aspects of every shoot- we must always make sure that no details go unnoticed. Typically at least one video shoot can take place at your office, as that is an painless way to capture great office b-roll, along with effortless accessibility to employees in order to achieve in-house testimonials.
Beyond your office or our studio, there are unlimited options for where we can shoot. Keep a few rules in mind. First of all, we can always shoot in outdoor public locations free of charge, and with no permits necessary. This includes parks, sidewalks, public universities, etc. Most other locations will require either a permit or some sort of location fee - including restaurants, libraries, and hotels. As with talent, the choice of location says a lot about the market you are aiming for and must be considered throughout the pre-production process.
---

As you can see, pre-production is a crucial and detailed phase of the video production process. It does not happen overnight. It is a long and creative process. Fortunately for you- we make it fun! Your video producer will take care of all of the paperwork, allowing you to worry solely about the creative process and approval.
Pre-production is the most important part of the video production process. This is where we have all of our creative tools at our disposal. During this process, everything is fluid. We have full control to alter the script, A/V time line, locations, etc. We also have the ability to find inspiration from award winning videos, and devise similar approaches to make your video look like a million dollar production.
Our team at Consume Media is very experienced in the pre-production process, and truly believe that this is the most important of all of the video services that we offer. Our creative juices are always flowing, and we are always itching to make each video better than the last. Years of learning and adapting our processes has lead us to this fool-proof process. Our clients love the fact that they are always informed and that they have the power to make changes to the video before the cameras have been turned on so that they are not left with any surprises afterwards. The only surprise we want our clients to experience is the surprise of receiving videos that are better than they ever imagined. If you'd like to learn more about our process, and video marketing in general, press the pretty little green button below to schedule a free video marketing consultation.
Consume Media is an Atlanta, GA-based creative video marketing and video production company. Visit our website to learn more about us, or browse our full portfolio on our Vimeo page.

---