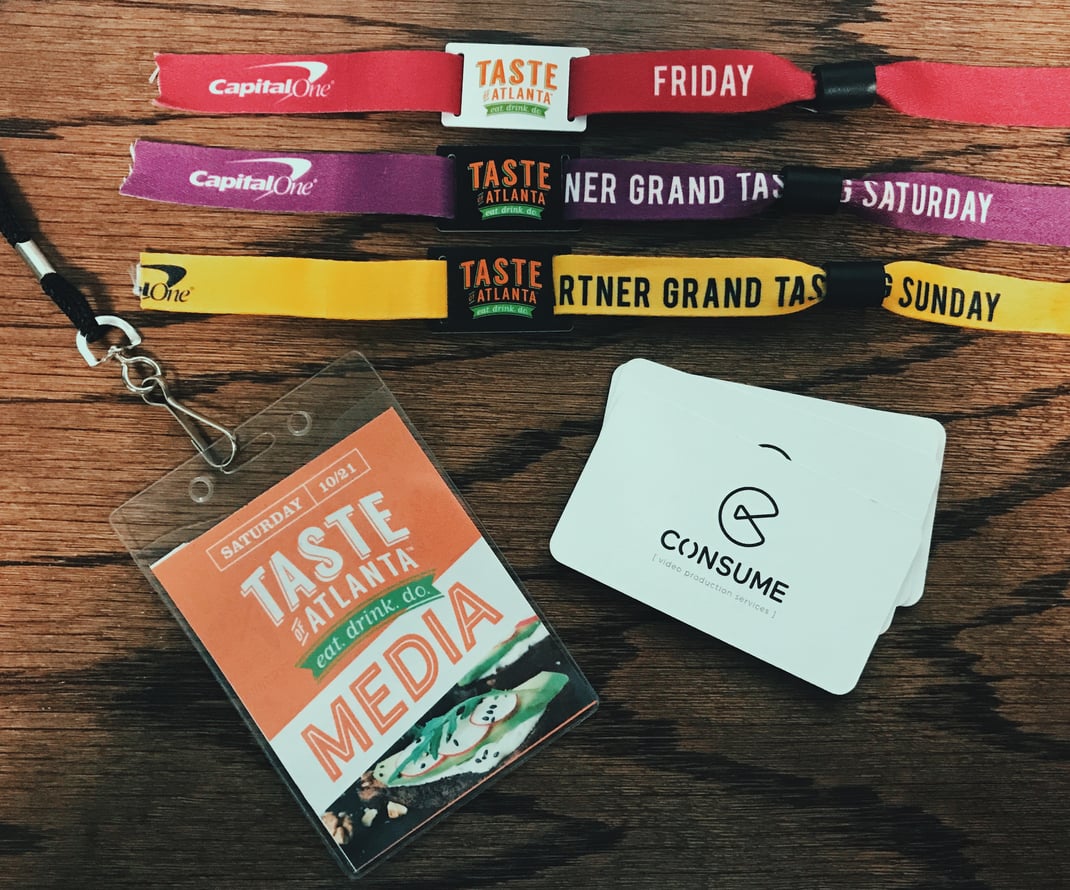 Everyone loves some BTS, and no I'm not talking about the Korean boy band - I'm talking Behind The Scenes. We had the pleasure of filming for Taste of Atlanta last weekend and had a blast. But a pretty video doesn't just appear out of thin air - there's (hopefully not too much) blood, (usually a lot of) sweat, and (rarely - we're very emotionally balanced people) tears that go into getting all of the perfect shots. Step into my (metaphorical) office for a peak behind the scenes.


Help

your event live on forever and spread even further to audiences that couldn't be there in person
What Were We Doing at Taste of Atlanta?
First things first, why were we there? I'm sure you could surmise that we were there to create some fun (and tastey) video content. We were capturing shots for two different videos - an event recap video and a sponsor testimonial video. How nice is it when you can go to the Google machine and easily find an event recap for the event that you're planning on attending? There are a few different purposes for these event recap videos: to simply capture what happened, to create a little bit of FOMO (Fear Of Missing Out) for those who weren't there, to generate excitement for the next event, and/or to inspire others to join the fun next time. This helps your event live on forever and spread even further to audiences that couldn't be there in person. The second video we were there to capture content for was a sponsors testimonial video. For this, we interviewed all of the main sponsors of the event and asked them about their Taste of Atlanta experience. This testimonial video will serve as exposure for the various restaurants and companies that sponsored the event, with the goal of also inspiring others to sponsor the event in the future.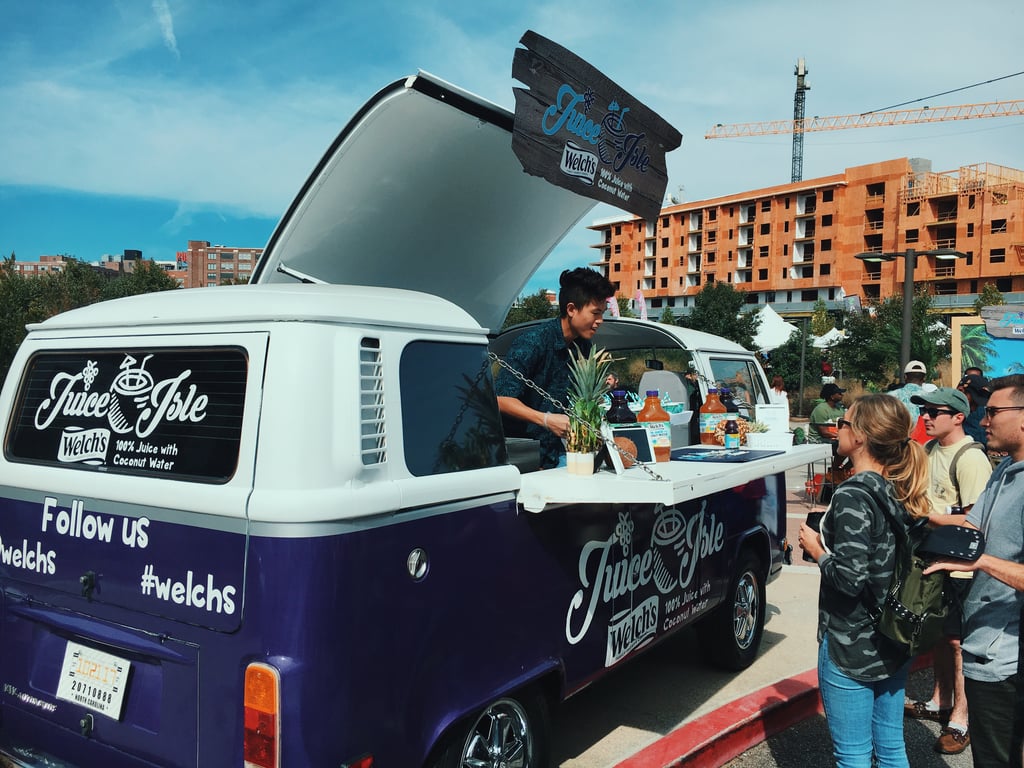 Welch's was crushing it with this old-school VW Bus.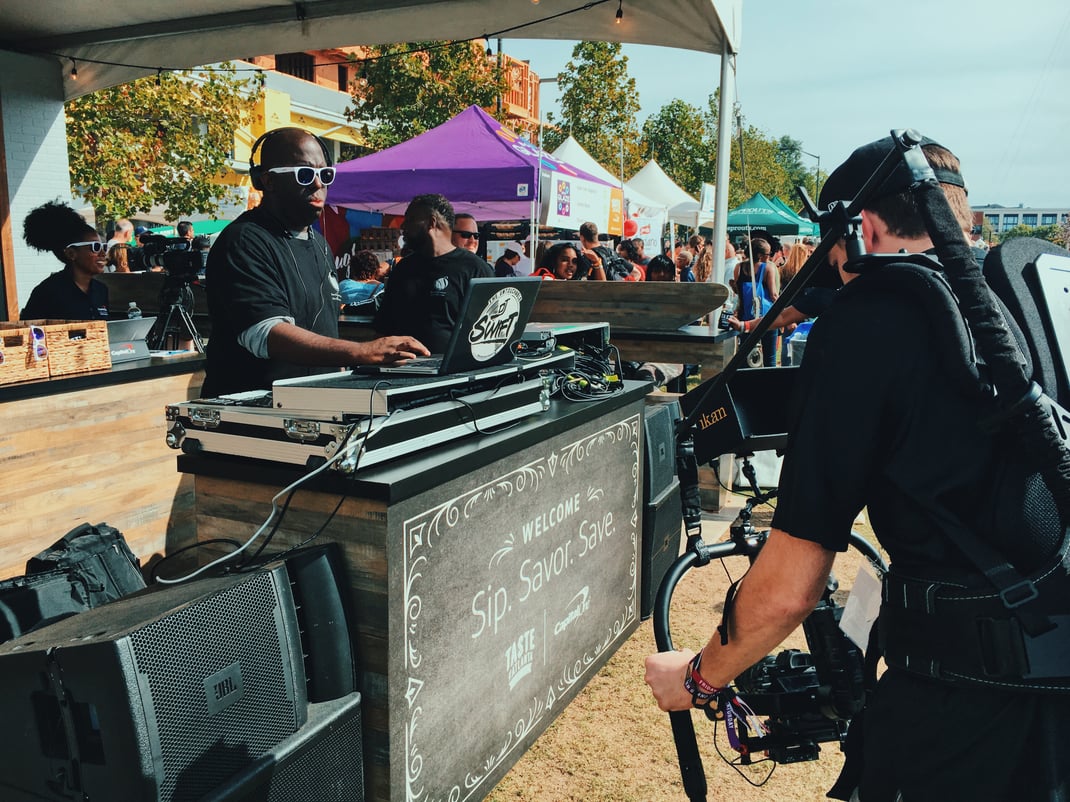 Capital One with the DJ!
How Did We Do It?
Well...Michael wore the baby björn of camera rigs. Considering this isn't something you see every day, nor is this something that most people have ever seen at all, there were plenty of comments and funny looks (not to mention, secret Snapchats - tag us next time!!). But this wonderful contraption helps us keep the video snippets smooth and makes it so that camera rig doesn't have to be carried around all day. Also, if you're wearing this or standing with someone wearing this, everyone assumes you're important and no one questions what you do. Pretty fun stuff. We also got some sweet drone shots in order to capture all of the festivities from above. This winning combination will come together to create the ultimate video summary of the Taste of Atlanta experience.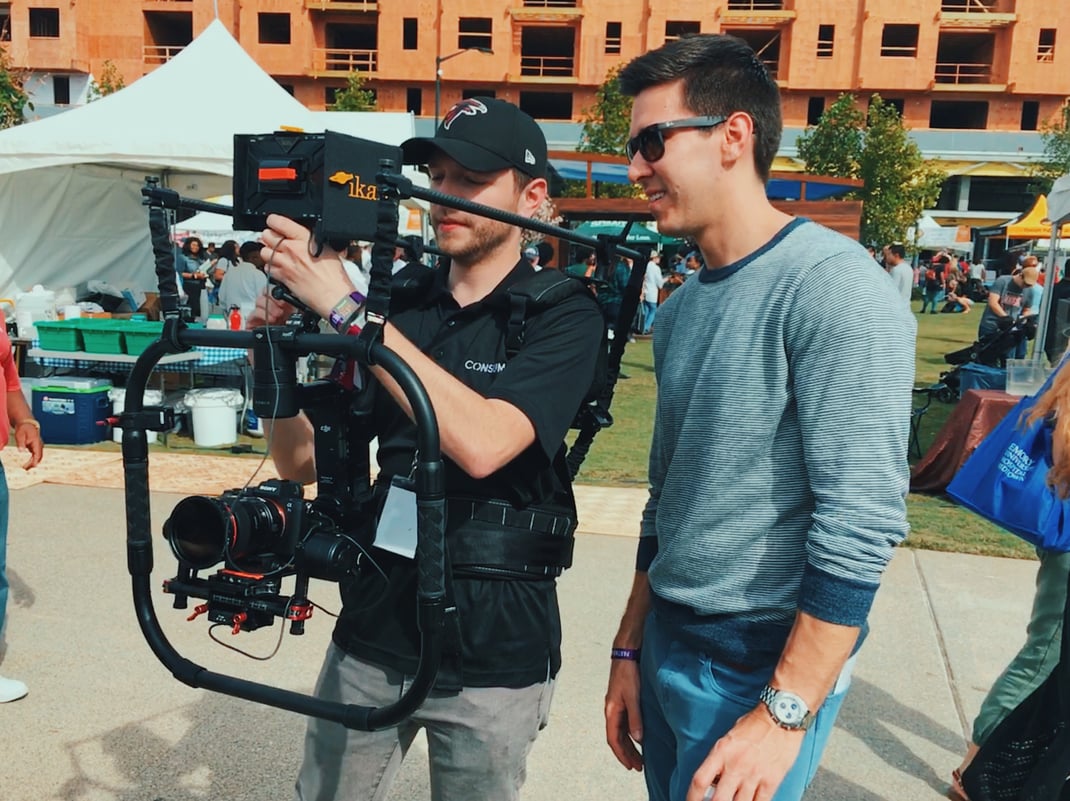 Some people stare from afar, some people ask you to show them how it works.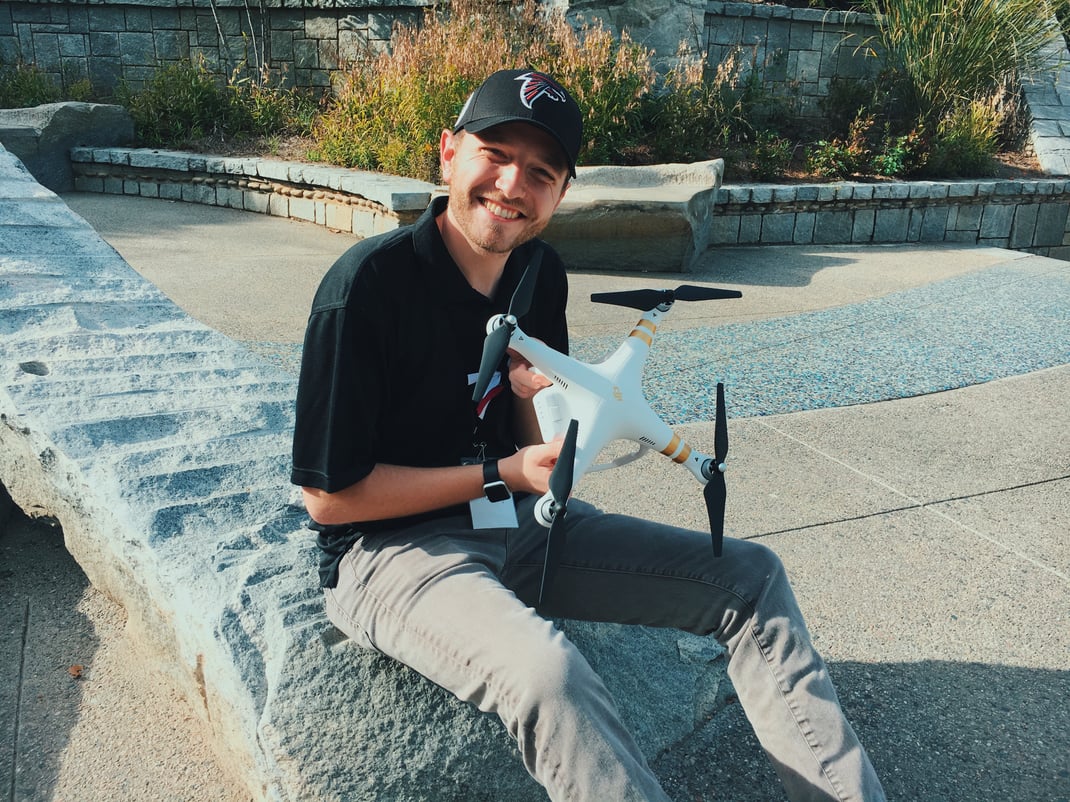 Everyone gets excited for drone time!
According to Twitter, video of an event increases brand favorability by 63%.
Do You Need Event Video?
When you see or hear about an event you're interested in going to, what do you do? You probably Google it. If a video pops up, it's a quick way to do some effortless research and see what this event is really about. Video is the most efficient content for drumming up buzz about your event, company, product, or cause - both before AND after the event. Video is also the best way to keep the event alive for more than just a day or a weekend. According to Twitter, video of an event increases brand favorability by 63%. Event videos will open up the experience of your event to all who could not be there. Video will account for 80% of web traffic by 2020, so make sure you're skating to where the puck is going.
We shot this event recap video for the W Atlanta Midtown Hotel, featuring Damien Escobar, to entice their
guests to attend their private penthouse concert series and attract new artists to perform for future events.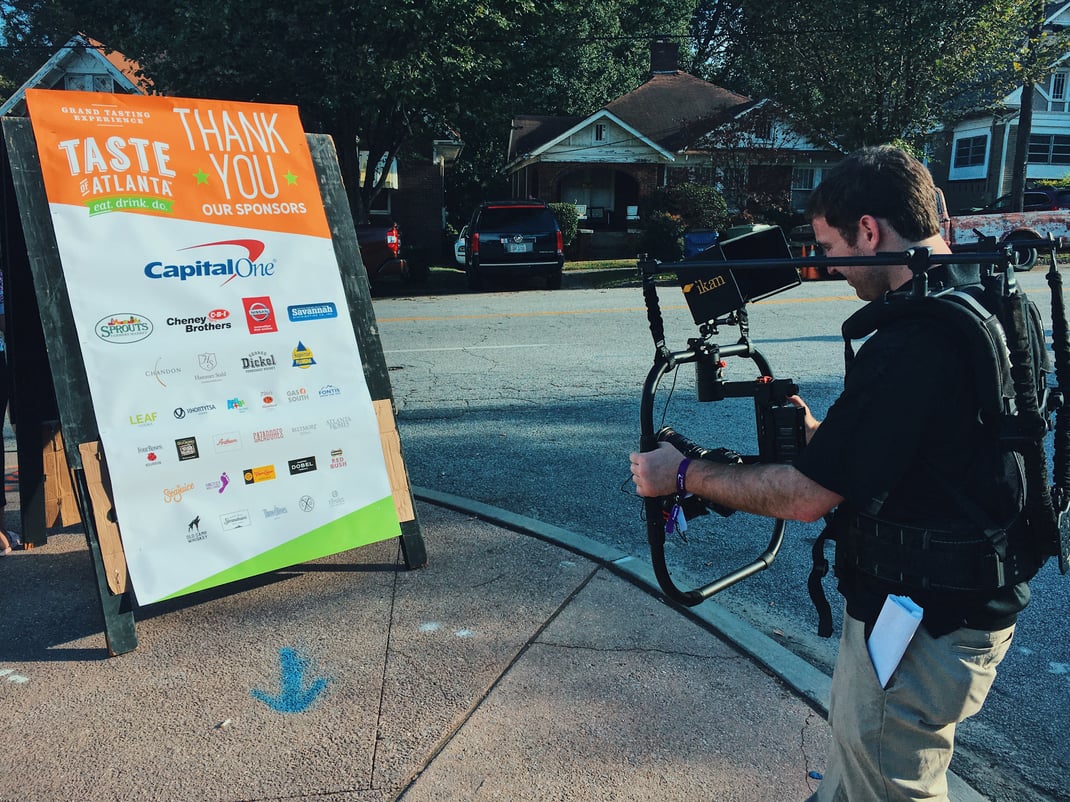 Leo got behind the camera for a bit! He crushed it! Shout out to all of
the wonderful sponsors who made this event happen. You rock.
Taste of Atlanta Rocked
We had a great time filming for Taste of Atlanta. We are proud to be part of fun events that bring so many different people and different types of food together in our own city. If you weren't there this year, you definitely missed out... but maybe our recap video (coming soon) can change your mind about going next year! If you decide to utilize event video, make sure it's done by professionals so that your audience will associate your event and brand with high quality execution.
Consume Media is an Atlanta, GA-based creative video marketing and video production company. Visit our website to learn more about us, or browse our full portfolio on our Vimeo page.