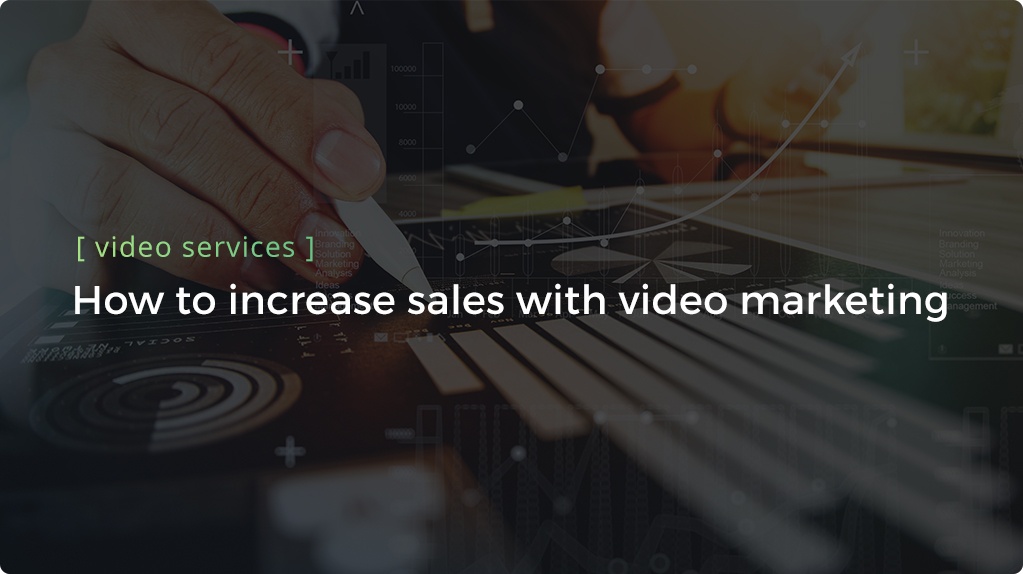 Shoppers are usually looking for a couple things - to 'use' the product or to learn more about it. Until virtual reality becomes more mainstream, your potential customers will unfortunately not be able to 'use' your product online. But that doesn't mean you should ignore these customers and carry on as usual - this means you should double down on finding creative ways to provide the same information that a customer would learn if they were standing there in front of you with the product in hand.
Providing more sources, and types, of content that demonstrate your product or service allows your brand to influence the purchase decision through the on-going education of your customers. The best format for educating groups of online shoppers is, you guessed it, video. Video allows your customers to see and hear things that they may never have the ability to experience in real life. Check out how these local Atlanta firms are successfully implementing video into their marketing campaigns. Your brand can show off the product, the people who make it, and the passion and attention to detail that goes into creating it. Communicating this behind-the-scenes information to your online shoppers lowers the barrier of trust and reinforces the value that you are offering to them. In less than a minute, you can create an educated customer that truly understands the value offering. In 2016, online shoppers are coming to expect these videos - photos of your products from a few angles just don't cut it anymore. A long term investment in video services is a long term investment in staying current. Your buyers want to see what it's like to use and how it fills a specific need for them. Remember, a picture may be worth a thousand words, but a video is worth 1.8 million (per minute).
---

1. Show Your Product or Service in The Best Light
Your website is the equivalent of your digital handshake. It is important to create a great first impression because the average viewer won't stay longer than 10 seconds if they are not immediately captivated. While design, text and layout are all very important- including a featured video has proven to be the best practice. According to Hubspot, including a video on your landing page can increase conversions up to 80%.
Your landing page is the best place to show off your brand. Your brand video should show buyers more about you than just your product. This video will help define your brand's personality and mission to buyers who may be 'meeting' you for the very first time.
In addition to this initial greeting, you should also be prepared to further educate visitors who wind up on your product pages. Because these product pages are directly related to conversion in that all sales must pass through them, it's important to provide even more educational material on these pages. Show your customer the features and benefits of the specific product that they are looking at. Delve deeper into the design or the manufacturing process. Studies show that nearly 96% of people find video helpful when trying to decide whether or not to purchase a product, so it's incredibly important to provide videos on your product or service pages. Plan and create these product videos taking your brand style and personality into account - this is an important opportunity to show your product in its best light and control the sales message. While user-generated video reviews no doubt influence a certain subset of buyers decision-making, investing in professional video services for each product, service, or line of business is a must in order to ensure that your brand is being represented in the optimal way.
---

2. Engage Your Audience with Targeted Video
Times have changed in the advertising world. What once required a giant team of video creators and advertising moguls now can be done rather easily. The barrier to entry for video advertising is now relatively tiny. Today's digital advertising technologies allow any marketer to reach the right audience in a more specific, targeted way than ever before.
With the evolution of these advertising platforms, the value of video marketing has increased with growing momentum. Now you can put your video content in front of a specific audience with advertising platforms such as Google Adwords for Video, Facebook, Twitter, and Instagram. You can target your audience based on age, location, interests, and more. Tracking this data and adjusting your message to fit your audience is key. In the old days - we had to guess. With modern analytics, we can see in real-time the content and platform that your audience finds the most engaging - allowing you to adapt your marketing strategy on the fly. This type of release-measure-adjust strategy enables your marketing plan to evolve and react to the demands of your audience, instead of remaining static.
Targeting the content is easy, but what about targeting the message of the content? We can be as specific or as general as we want. We can target certain videos with a broad message to the masses. We can target visitors who have been to our website previously with a different video. We can even send personalized videos with custom names and logos to establish a unique and real relationship with your customers.
Digital advertising is changing the game, and video is the best way to leverage these platforms to connect with your audience.
---

3. Reinforce your Credibility
Back when television advertising became popular, the seller was in control of the market. Sellers could spew any sort of information, put it on TV, and the market would either take it or leave it. But times have changed, and the buyer is now in control. Consumers now have access to so much information, that they can pick and choose what they want to listen to. This is part of the reason that building brand trust is so important.
Many businesses are changing the way they market their brand. Modern marketers are shifting focus to providing content as a way to educate and connect with their audience. Businesses are publishing interesting videos and blogs that touch on hot-topics and drive traffic to their website. By consistently publishing credible information, businesses are building trust with their audience.
As businesses begin to approach video as an educational tool, instead of just a sales tool, they are showing an investment in their relationship with their customers and establishing an audience of people that will come back to you when it's time to buy.
---

Providing product videos and educational videos, and leveraging digital advertising technology as part of your video marketing plan, will reinforce your credibility, drive more traffic to your website, and increase conversion rates. In addition to these tools, remember that video testimonials will always be a great way to build trust with your consumers. People will only buy from you if they trust you. Modern businesses need to focus less on asking, and more on giving - then watch as this strategy of 'caring' turns into real results.
---

One of the most important aspects of video marketing is the quality of your videos. Your video marketing is an extension of your brand, and you cannot leave your brand to an amateur. If you want to learn more about video marketing, click the button below!
Consume Media
is an Atlanta, GA-based creative video marketing and video production company. Visit our
website
to learn more about us, or browse our full portfolio on our
Vimeo
page.