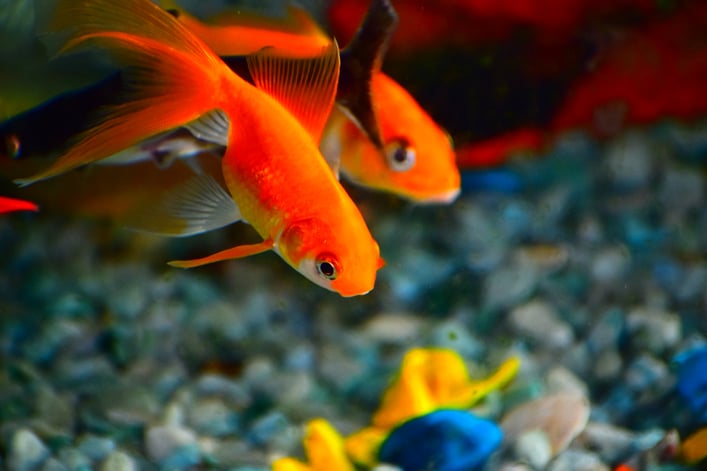 Video Keeps Users on Websites Longer
You may be asking yourself, "why is there a goldfish photo at the beginning of this blog?" Well, my friends, humans now have an attention span shorter than that of a goldfish. I'm not making this up! But studies have shown that on average, web pages with video will keep people on their website for 2 to 3 times longer. A website is one of the best places for a company to utilize the power of video. In today's world, consumers have hundreds of thousands of options that are just one click away at all times. A potential customer staying on your website for twice as long as they may stay on a competitors website is significant. Stimulate consumers' brains with video and keep your company in their mind. The two most effective ways to generate leads on your website are utilizing a video marketing platform and embedding calls to action within your videos.

Video Marketing Platform

Branding
The branding and customization abilities are huge draws for a video marketing platform. Your play button can be your company color, you can put a logo wherever you want it, etc. Video marketing platforms also include the ability to embed calls-to -action within your video - but we'll dive deeper into that later. Our video marketing platform of choice is Wistia. Wistia lets us put our logo in the top left corner of all of our videos and have the bottom functions, including the play button, be in Consume Green™.
Email Campaigns & Analytics
Integrating a video marketing platform into your email campaigns is extremely helpful because you can get analytics that tie together the addresses on your email list and detailed video viewing statistics.
Ultimately, when you run an email campaign, you are going to be driving people to a landing page that is associated with your website and that page should include a video.
Platforms like Wistia can show you who is watching your video content, who is rewatching and how often, where are the hot spots within your video, and more.
The picture above is from our own Wistia account. It shows the video history and heatmaps from a person we sent an email to. We can see that the visitor started by watching three different videos within a span of minutes in November, before coming back a few weeks later to rewatch our reel. The different slices of color show which parts of the video they went back to and rewatched. We can see a third visit pop up in January. A few weeks after that, we had a project underway with this company. Platforms such as YouTube and Vimeo just don't give you the same information. You don't get the same features and custom-ability (technically, custom-ability isn't a word, but apparently customizability is. We like ours better.) Analytics are knowledge and knowledge is power.
The analytics and branding capabilities make investing in a video marketing platform a no-brainer. If you're weary and just want to get your toes wet, try Wistia'a $99/month bare minimum package. This won't integrate with a CRM, but it will integrate with many email platforms, such as MailChimp.


Call to Action

Follow the Sales Funnel
If you're trying to get a user's email address, you'll find the most success when using a call to action form within a video.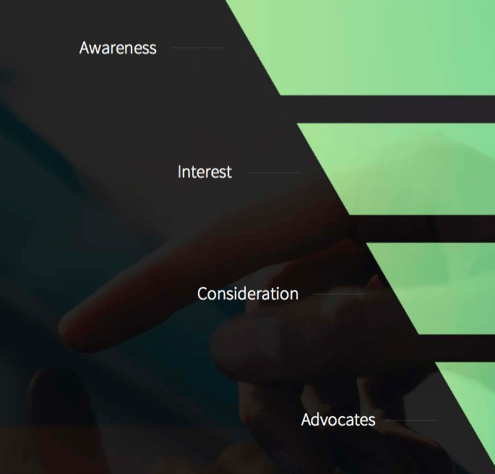 Different types of videos live within different areas of your website.
Different types of video match up with different stages of the sales funnel
Different videos should have CTAs embedded at different times of the video.
Confused? Let me break that down.
Your homepage is where top of funnel content lives. This includes a brand video or an about us video.
There are 4 key elements you want in your brand video:

Address a problem
offer the solution your company provides
present your competitive advantages
and discuss your unique values
CTAs belong at the very end of TOF content because people are still trying to understand your concept before they're ready to hand out information. This is the stage where you can even omit a CTA altogether if you see fit.

In a video that details your product or service, it might make sense to put your CTA toward the end of the video. This is still toward the top of the funnel, so you don't want to be too pushy with potential customers. This content can live in multiple areas of your website.
Testimonial videos should have CTAs in the middle of the video. This is middle of the funnel content and people are considering your company, but aren't quite there yet.

This content can also live in multiple areas of your website.

If you have a learning center or learning page, then you are producing middle of the funnel content. This is where informative videos live, so put the CTA at the beginning of the video. You're providing information and value, so it makes sense to ask for something in return.
On a pricing page, you want to include your middle/bottom of the funnel content. This is another area embedding a form early in the video is a good idea. If someone is on your pricing page, they're very interested in your service. Getting their information at this stage allows you to have an educated follow-up.
Collecting potential customer's information is important because you can't always rely on them to follow up with you. Having their email allows you to contact them and direct them to the right place on your website.
Your website needs to be treated just like the video sales funnel and should include all of your content in some way or another. The further down the funnel you get, the more aggressive you should be in asking for contact information. Viewers are showing interest in your product or service by watching these videos, so they may open to sharing their email address in exchange for additional info. If you aren't as fortunate as us and don't have office dogs, come up with something else clever to entice users to give you their information.

Your customers would rather watch than read
I know that sounds ridiculous, but consumers are tired and a tiny bit lazy, so give them a video to watch instead. Video is the best way to convey information efficiently and effectively in a way anyone can understand. Video speeds up the sales process and increases the ROI of your business. If you provide quality video on your website that has the intelligence backing of a video marketing platform with strategically placed CTAs, you won't fail.


Consume Media is an Atlanta, GA-based creative video marketing and video production company. Visit our website to learn more about us, or browse our full portfolio on our Vimeo page.