Why Go Live?
It seems as though recently live video has become as trendy as avocado toast, and for good reason. As you probably know, live video is video that's consumed at the same time it's being produced. It used to be primarily the news and sports games that were broadcasted live, but with the evolution of technology, the world has brought us all the ability to "go live." This is a bigger marketing opportunity for businesses than most of them realize. Most people watch live video longer than previously recorded video. You can record live video either casually with a smartphone or more professionally with a production team, and we'll walk you through both.


Anyone Can Go Live

Smartphone + Internet Connection
The beauty of live video is that the majority of the time, no professional crew or video equipment is needed. Average Joes and Janes like you and I can do it as long as there is a smartphone and an Internet connection. These types of casual live videos are most popular on Facebook and Instagram. One out of five Facebook videos are live videos. Making live content increases brand visibility, builds a connection with the audience, and creates a sense of urgency.
Why?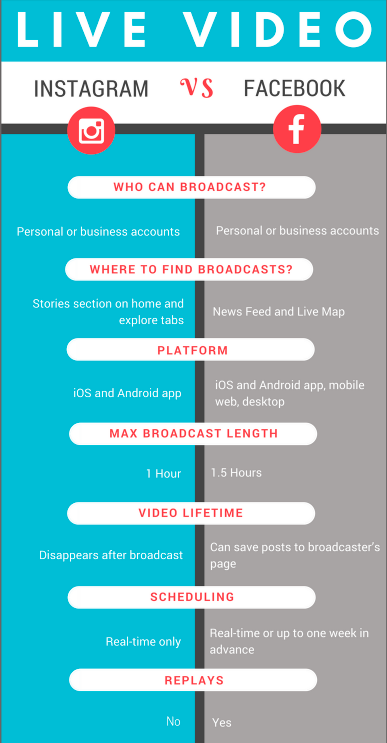 Why should the fashion brands go live? Why should the real estate companies go live? Why should a video marketing company that has all the means for professional video do a casual live Facebook video with an iPhone? (Oh wait, that was us.)
1. Visibility
Facebook algorithms actually prioritize live video in News Feeds. This has become increasingly important for Facebook business pages since Facebook recently announced an algorithm change that will "be prioritizing posts that create meaningful conversations, especially those from family and friends." This change is predicted to decrease the reach of business pages, but the good news is, video, especially live video, will still be given precedence. Another bonus is when a Facebook or Instagram page goes live, people get a notification.
2. Video Rocks
Video is amazing, and we aren't even being biased. Four times as many consumers would rather watch a video about a product as opposed to reading about it. 51% of marketers name video as the content with the best ROI. Video speeds up the sales cycle. Live video is just another form of video that can produce the kinds of results that grow your business, plus it's more casual and you can do it yourself.

3. People Are Curious
Why does anyone want to tune in? Because people are interested. Maybe it's a new product, behind the scenes, a day in the office, etc. In the age of reality TV and YouTube vloggers, it's clear that people love seeing what other people's lives are like. Check out the full infographic covering the differences between Instagram live and Facebook live.
Professional Live Video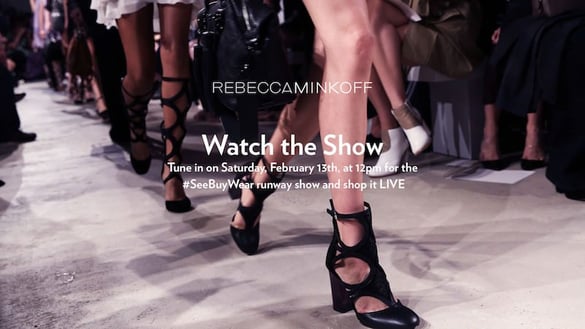 If you do want a more professional level live stream, this is also more accessible than ever before. This will probably require a small production crew and some production equipment but don't worry, 99% of the time this is unnecessary. Here are some examples of when a professional level live video is necessary:
Fashion week
Fashion week recently took place for the 75th year in NYC with all the industry's top designers. Almost all of the companies went live to show off their new lines on the runway. What better way to show your new products than to do it live? With fashion, you want your information out as soon as possible so it can get attention and make sales. Live video also brings fashion week to the people who couldn't attend it.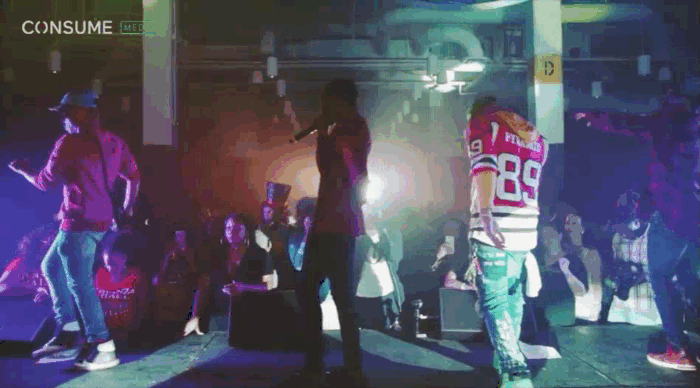 Concerts
When we were approached to do a live stream of T.I. and Hustle Gang's new album, this was an instance where a slightly more involved set up was necessary since it needed to be top-notch quality. For years many music artists have been releasing albums with live versions of their music. As I was typing this, I remembered how good John Mayer's live album is and started listening to it. The next logical step is live video. Most people have some form of FOMO, Fear Of Missing Out, and what creates more FOMO than watching something on your screen and wishing you were there? Live video increases visibility and makes sharable content.
Conferences
Often live streaming is now utilized for conferences. Sometimes that awesome marketing conference that's happening in California or Illinois just isn't realistic for you to get to. But if you can watch parts of it live, you can still get some of the benefits of actually being there, which may even encourage you to attend next year. The reason businesses are having these conferences in the first place is to get their information out there and make connections. If you can sell web passes for half the cost of an in-person ticket, you don't have to provide that person food, seating, swag, etc. and he or she can still consume all of your information.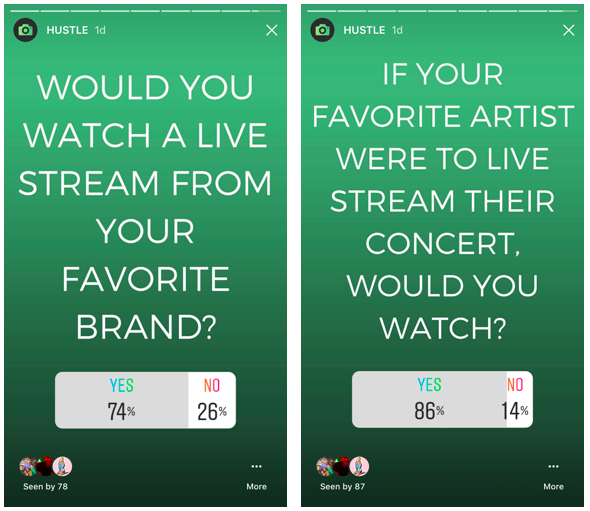 According to an extremely trusted source (AKA we polled our Instagram followers), the majority of people would watch a live video from their favorite brand or of a concert. Every year the number of live videos made and consumed increases. Going live is nowhere near as complex and expensive as it was 10 or even 5 years ago. Utilize it for product announcements, performances, speakers, conferences, behind the scenes, and whatever else you think your audience would find interesting. Live video increases brand awareness and creates audience connection, but another benefit is that live video will still be there and available to people after it's no longer live. Don't miss your opportunity, jump on the live video bandwagon.


Consume Media is an Atlanta, GA-based creative video marketing and video production company. Visit our website to learn more about us, or browse our full portfolio on our Vimeo page.